CORONAVIRUS COEXISTENCE DAY 69
Coronavirus Coexistence

DAY 69

 Wednesday, May 20, 2020
Day 69, this could be interesting… and of course, it is. From the first day of this f***ing phase, I already told you that I wasn't liking it that much. I don't know what this phase has against me. It started with my car, then my health and today it was Internet's turn. Yes, ladies and gentlemen, I woke up without Internet. But before that, my day started at two in the morning when I couldn't fall asleep. I can't seem to sleep lately, and at three in the morning, a f****g mosquito started buzz, buzzz, buzzzz (I know, sounds in words are not my thing) and bit me everywhere. I had an epic fight with him (or her) until I was finally able to fall back asleep after scratching and cursing the damn mosquito). Then at 4:45am, my refrigerator started going "BEEP… BEEP… BEEP… BEEP…" Let me tell you that we've had a problem for a while now, where the fridge starts with that beep, beep, that f****g sound when someone leaves the door open (or just whenever it feels like it), and there's no way to stop it. We have to cut the power and turn it back on to make it stop.
Like that all night… and this morning I woke up exhausted from the night and BOOM, nothing, there was no Internet… F******. I tried to fix it, but I had to call for help. After spending the entire morning without Internet, with a technician assigned to come in the afternoon… suddenly I get a little message on my cell phone that says "Please answer YES or NO if your technical incident is solved" and I answer "NO" and after 30 seconds BOOM, I had Internet, and I answered the little message again "YES", Now "YES"...
After all this I thought, "Is it too early for a beer?" and I answered myself, "Well Nuria, for a beer yes, but for a carajillo it's never too early." (A carajillo is coffee with brandy). In addition, while I was crazy and stressed in the mornings, my dog was like this…
Great, everyone happy… What a good carajillo does when all goes wrong… hahahahaha. NOOO I didn't make a carajillo, but I was close to it, tomorrow I don't know if I will make one for real, it depends on how this damned f****g Phase 1 behaves with me!!
Well, anyway, what always makes my day are my interviews. Today I was afraid of falling asleep while interviewing poor María Eugenia, but luckily, she has so much positive energy that it helped motivate me a little…
Yes, I know, as always, my best face forward (well, it's not my best face, María Eugenia told me) is that I continue to improve myself every day, even when I'm tired and sleepy. I am the best!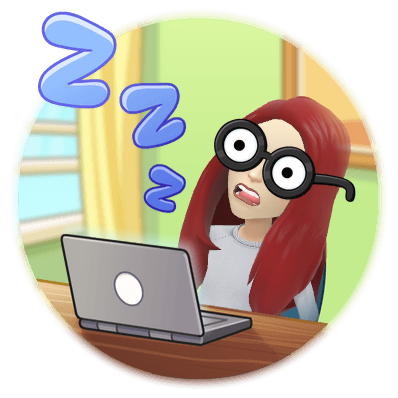 I end the day a little bit as you see in my bitmoji, I don't know how I've endured and how I'm writing this right now… If there are more spelling mistakes than normal, forgive me… I've given it my all today and I'll give it my all tomorrow , I give everything for you, but above all for myself, because I am very proud of myself. There are already 29 interviews without a break and I have one left in May and I'm preparing for June, because I can't stop… something won't let me stop… Almost like Victoria Page in "The Red Shoes"  (one of my favorite movies) and the scene when Lermentov asks her why she wants to dance...
Daily reflection: I know what I have to do, I hear voices (no, not in my head, real people´s voices) voices full of passion and hope that encourage me and there are voices full of fear and responsibilities, there are voices that scream at me with encouragement and voices that shout at me with warnings… However, my inner voice is the one that speaks louder than the rest and the one that I have always listened to, the one that has always been with me and the one that has always guided me…
"I know what I have to do."