CORONAVIRUS COEXISTENCE DAY 44
Coronavirus Coexistence

DAY 44

 Saturday, April 25, 2020
I have so many things to tell you today! Let's see… I´m so excited!!!!. I have to announce that next week I will start a new program called "Conquer Your Fears", at 5 o'clock. Videos where I will receive a live Master Classes on topics that I am very, very bad at. Things that overwhelm me or I am afraid to do, since I know I will f*** it up. Things like sewing, cooking, painting, singing… And I will have a very special guest, Isra García, one of my mentors and with whom I participated in the PEIG, Program of Excellence for the Unemployed. Now I am actively involved in the communications department with my other Peigers colleagues, helping other people who are unemployed. Isra has helped me little by little to get out of my comfort zone, to be more productive, to learn to disconnect, to believe in myself and overcome my fears. He always has a full schedule and has made a tremendous effort to make room for me.
And the following week the "Friends with Talent" program returns, since the first edition has been a success and many of you have asked me for more. I have many more talented friends to share with you. So, pay attention… If you have reached, this point and you don't know what I'm talking about first, very bad, read all the chronicles, that's what they are there for.
Well, today I had to go to the pharmacy to get my medicines and my mother's. I leave the house, so happy, with my ribbon in my hair, a bag for the grocery shopping later and myself, with my usual smile. I walk through my neighborhood and suddenly I hear… "Nuriaaaaaa…" and I look up, and there was my doctor neighborfriend. She says to me, "Where are you going?" and I answer back… "To the pharmacy and to go grocery shopping." And she replies, "NO MASK?" and I say… "Of course not, I'm free and happy" (The entire conversation could be heard through the neighborhood, since my neighborfriend was in her balcony yelling down to me). The neighbors began to peak out of their windows to see what was happening).
Suddenly, my neighborfriend says… "WAITTT…" and I yelled back: "OKKKKKKK!!!!"
And nothing, I stayed there in the middle of our urbanization looking like a fool, waiting while the gossipy neighbors stared at me. I started to greet them openly and they started to hide, hahahahahaha. My neighborfriend came back and threw down a bag with masks, hahaha, and I yelled, "THANK YOU." And she said, "THERE, NOW YOU CAN GO, YOU ARE PROTECTED."
And I was off, I put on the mask and I have to tell you that it's was really claustrophobic (well, maybe it's just me as I'm super claustrophobic), it was too big and kept falling off, I couldn't catch my breath or I started hyperventilating and that fogged up my glasses. I could hardly see anything as I was walking.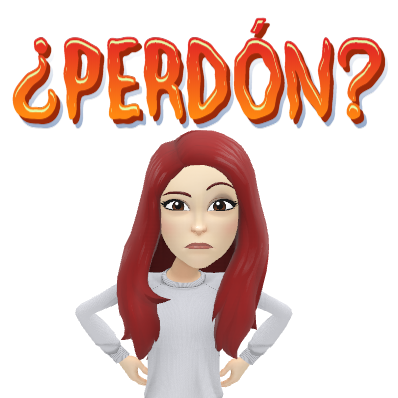 Somehow, I made it to the pharmacy and the pharmacist (a young girl also wearing glasses and a mask) looked at me (my glasses fogged up, I couldn't see shit) and said, "Ma'am Are you okay?" and me, "Let´s see", "First of all, don't call me Ma'am, I´m not that old", second "Do you think I´m fine? No, I'm not fine, how the hell do I keep my glasses from fogging up?" to which we both just started to laugh. The poor thing, super kind, helped me adjust everything and, voilà, I could suddenly see again (although I was still a little claustrophobic). I gave her my prescriptions and those of my mother, and she says (this time with fear in her voice, she wasn´t sure how to say it), "You get 3 masks because…" and I say: "Say it, say it, because I ´OLD." And she says, "No, no, it's just that you're considered high risk," hahaha, and I said, "considered older." The poor thing didn't know what to say anymore, hahaha, until she explained to me that, because I have high blood pressure, I am considered a person at risk. The poor thing… Anyway, I left home without masks and came back with nine (3 that my neighborfriend gave me, three for myself from the pharmacy, and another three for my mother), hahaha, the things in life. The rest of my outing went as planned thank God.
When I got home, I was busy all day preparing the interviews for the next few weeks and figuring out more shit to come up with to make you people laugh and keep you entertained.
And to end the post I leave you with links of things that I saw on social media and found to be very funny. I love Carlos Roca, and his great animal voiceovers and my always-favorite Celeste Barber. With these two, I think you will be entertained for the rest of the lockdown that remains. And with that, I sign off.
Daily reflection: There are fewer days of lockdown left, now that I was getting used to it and having a great time. I wonder if when everyone gets back to their busy lives they will still read my blog and watch my interviews. I am clear that I want to continue, it will be the post pandemic chronicles, the menopause chronicles, the I´m crazy chronicles and all other types of chronicles that I can come up with.
"The end comes and the beginning ends."